All About Desk Pads
Some call it a desk mat. Some call it a desk blotter. We call it a force field, but more on that later. The desk pad is sweet, whatever you name it, and we're believers.
First, a definition. Desk pad (n): 1. a thing that protects desks; 2. A thing that can turn any space into your workspace.
"A desk pad is the first thing to buy when setting up your home office."
Don't have a desk? That's ok. The desk pad creates a workspace where one didn't exist before. Maybe you find yourself at a kitchen table, or a coffee shop, or at that shelf that used to hold books but now is your "standing desk." The simple act of setting down this unassuming piece of material immediately transforms not just the space but also how you jive with it.

Classic desk or not, the desk pad solves many problems, some of which you perhaps didn't know you had.
Why Should I Buy A Desk Pad?
It protects devices while also protecting the surface you're using. On the flip side of that, if you're using a surface you absolutely hate, it hides it with a graceful nonchalance.

We'll let you in on a secret. Our office desks are IKEA hacks, and we don't like them. But the desk pad single-handedly transforms them. Instead of touching a cheap, uninteresting surface, we touch luxury. Instead of staring at scratches and flat white, we rest our eyes on pleasant textures and good lines. So yes, a good desk pad protects what's under it. But a great desk pad also elevates the experience of whoever is around it.
When we created our desk pad, we were trying to break up all the wood we were seeing in our customers' desk setups. Mixing woods can be
a beautiful thing
, but it needs balance and contrast to work. The desk pad provides it. One slim and trim piece of material can save an entire space from clashing. So, if your birch desk rubs your walnut laptop stand the wrong way, or your leather mouse pad competes with your leather-top desk, consider getting a desk pad to run interference.
You use your desk for all sorts of things, including taking your lunch. Here are some more ways a desk pad goes to work for you:
If you occasionally spill that ramen you love and are looking for something that's easy to clean, there's a desk pad for that.
You might need a comfortable writing surface for the moments when you turn to your trusty pen and notepad. The right desk pad will have a perfect cushion:resistance ratio, so your beautiful, fluid ink strokes won't poke holes in your paper.
Do you live for the flow? Your desk doesn't need to interrupt it. Get a desk mat big enough to be an all-in-one keyboard and mouse pad. It creates a continuous visual sweep that underlies and supports hours of hard work.
Or let's say you're virtually all digital, or spend hours at a time lost in your game of choice. A gaming desk mat can be a faithful friend here. It doesn't try to talk to you, and, if you find
one with a kickstand or two
, it'll hold your phone(s) for you.
But what size do you get? To which we say, how do you want to use it?
A small one is easy to move out of the way when you finish one task and move on to the next, giving you two desks in one. Especially when used with our
desk shelf
.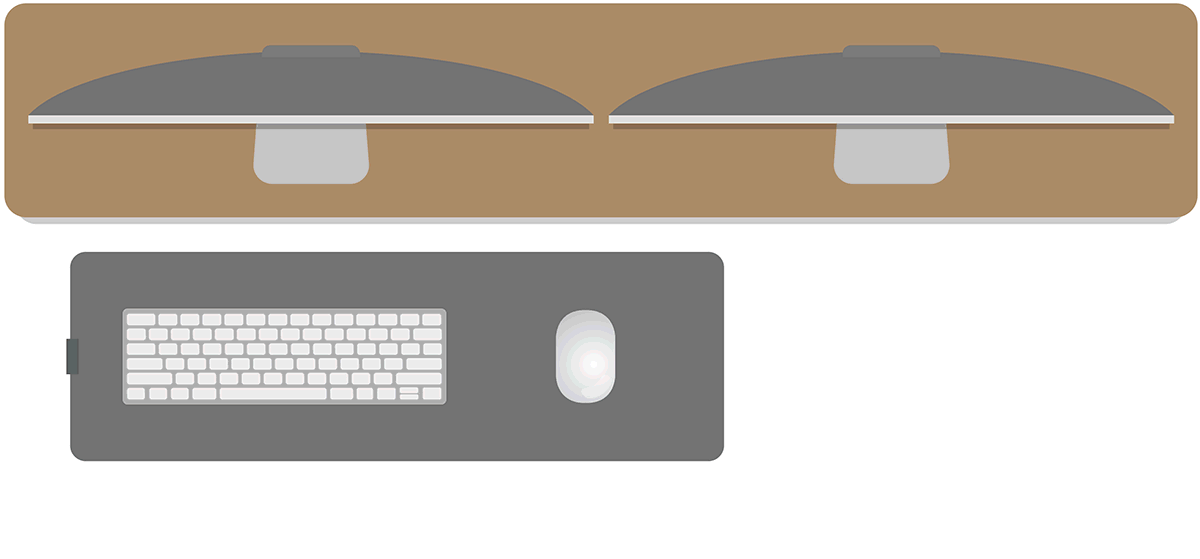 SEAN KELLY, LEAD PRODUCT DESIGNER:
I love our small desk pad because it's like a little car, and the desk shelf is a garage. I can slide the 'car' that's holding my keyboard into the 'garage' when I'm done typing and need to sketch.
An extra large one both covers and carries a lot more. Either way you'll want to make sure you measure your space twice and order once. And while you're measuring, take a minute to step back and visualize the space you want to have.
Interlude: Desk Pad Theory
A desk pad is like an area rug for your work surface. It adds cushion and even absorbs
light
nicely. Rug theory says that a large rug can make a small room feel bigger simply by defining a larger area. Our desk pad theory says the same. It guides your eye, framing the objects and anchoring them so it doesn't feel like they're floating around. So if you want to feel like you have a big, grounded space, go for a larger desk pad. If, on the other hand, you adore your desk and can't bear to cover it up, a small desk pad can still provide a frame while letting your desk remain center stage.
At this point you should be done measuring and can move on to materials.
What Material Should I Get?
We're going to guess you spend a lot of time in your workspace. A lot of time touching the surface and resting your wrists on it, even if you're not supposed to. A lot of time tapping out the beat to those tunes. A lot of time staring blankly at it. That's a lot of time. The material you choose for your desk pad can make all the difference.
What Are Natural Options?
Leather.
Animal leather can have a rich, textured feel and will last a long time, especially if it's vegetable tanned (
see our post on leather
). It also develops a patina over time, so a leather desk mat is nice to look at when you buy it and even nicer later.
Felt wool.
We're biased here, but we love our felt desk mat. True, it can be too soft to write on. Lower quality or synthetic wools can be scratchy to some users. And yet it brings a soft warmth to your space. It's also easy to roll or fold up and still will lay flat when you set it down. In fact, our lead designer, Sean, folds his like a taco, slides it into a tote bag, and voila! he has both an iPad sleeve and a convenient way to carry his desk pad. So you see, wool is cool. Check out our deep dive on the material
here
.
Linoleum.
We mean
real linoleum
, made from Linseed oil, not the PVC material that's commonly called linoleum. The real one is natural, smooth, durable, protective, and fingerprint- and static-resistant. It feels premium, and costs less than animal leather.
Tempered glass. Clear, cool and smooth. If you're looking for sleek durability that's easy to clean, glass could be the way to go. Of course you might also have a lot more smudges to deal with, and a lot less cushion. As in none.
Synthetic versus Natural Leather
Vegan leather, or faux leather, comes in polyurethane (PU) and PVC versions, though PU leather currently has a reputation for being generally safer than the PVC (due to potentially toxic chemical components of some PVCs). Though it might not last as long as a high quality animal leather, vegan leather costs less, is easy to clean and is still durable.
What About Other Synthetic Options?
Polycarbonate (strongest, most premium), polyurethane, PET and PVC (most basic). These materials are durable, heat-resistant, easy to clean and relatively inexpensive. Some offer antimicrobial and anti-static properties. You can also go for a clear option, which is neat if you want to see your desk surface or keep papers visible but tucked away. Companies like
Floortex
sell a range of synthetic styles, including "non-toxic" and "phthalate-free" PVC options.
When you're deciding between these options, think about this: every touch, every glimpse could bring a spark of happiness. Which brings us back to Sean, who famously once said of his desk pad:
"It just makes me happy. I want to lay down on it."
SEAN KELLY
Lead Product Designer
The desk pad, much like Sean himself, brings good vibes. Things you can't measure in dimensions and weight and texture but that totally drive your experience of a space. We've realized that the physical boundaries of a desk pad carry over into our mental space.

Remember the force field? Here's what we mean: clutter cannot enter our desk pads. We'll have things piled up and scattered all around it—magazines, coasters, toy rhinos, sticky notes—but on the pad itself, everything is crisp, tidy, perfectly organized. We arrange things to follow the lines of the pad. We space things out to fit the frame it provides. We smile when we take a minute to notice the contrast it brings to our desks. And, when it is not there, we feel lost and miserable.

This is really why we are desk pad believers. It's a quiet product that revolutionizes your work space and makes it a place you love coming to, day after day.