The Titanium Pen
Introducing the Grovemade Pen in raw titanium. The fruit of a design process spanning four years, it's a refined writing tool. A modern take on a classic desk pen, now available in our super premium finish.

Limited initial run of 175 titanium pens available now at introductory pricing
The pen your desk has been dreaming of
Titanium is a magnificent, lustrous metal. It's almost as light as aluminum, harder than stainless steel, and highly corrosion-resistant. The weight of the Titanium pen feels just right in your hand. Each pen is stamped with the elemental symbol, Ti, to denote its value.
Preserving the raw finish of the machined titanium ensures you're getting a unique pen—because we don't bead blast or tumble our titanium and brass pens, the facets and machined details are preserved. It's uncommon, a more rigorous process, but we think the result is worth it.
"The raw finish keeps the details crisp. It brings the shapes to life because the edges are so precise."
SEAN KELLY
Product Designer
The Grovemade pen brings old school class back to your desk with a modern twist. It's there when you need it, at home in its prominent stand—no need to collect a cluttered mountain of pens and pencils. For maximum durability, it's built with a seamless all-metal body for an heirloom quality pen that will last a lifetime.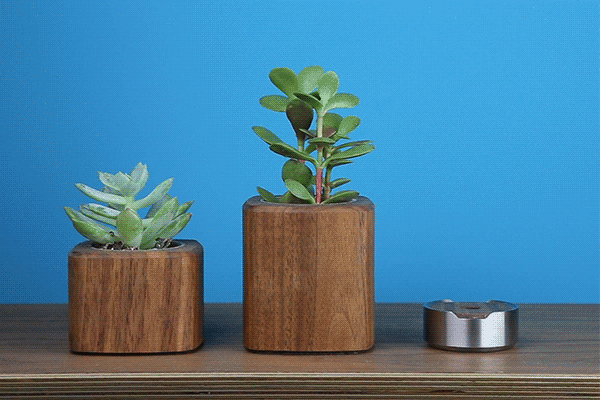 Keep your pen and pen stand close by for when inspiration strikes.
We carefully considered each element to build a pen that handles well
Mighty Mighty
The pen is available alone, or with the coordinated stand in walnut or maple, to fit with your specific work environment.

Limited initial run of 175 titanium pens available now at introductory pricing