Unboxing the M2 MacBook Air
It's time to unbox the MacBook Air M2.
Come along for the ride as Nick finds out Ken and Sean's design take.
Nick: We got the midnight, which I'm excited about.

Sean: I'm a little weirded out because one end of the cord is black and the other is white. I'm stoked that they made the MagSafe end black though. That looks really nice.
Ken: I don't know. I think this is a bad decision.
If you're going to spring for a black laptop, you want the whole experience black.
Ken: They came out with the new power brick that has two ports cords on it. Super excited about this.

Sean: Super cute little brick. This plugs directly into the wall. This is actually pretty rad. It has these nice little indents on the side.
The new MacBook Air charger (center), alongside the older 87w (left) and 35w (right) power bricks.
Ken: The charger is so awesome. When I first grabbed this box I was ignoring the actual computer. I was so into this compact power brick. But when you plug that into a power strip, it takes up a lot of space and is going to have that annoying interference thing.
Sean: Its strength is that it has the double-port compact power adapter. I think that makes up for the fact that, on a power strip, it would take up two spaces, because you're able to plug two things into it.

Ken: But if you put it in the middle, it takes up three.

Nick: Yeah. It's really designed for a wall.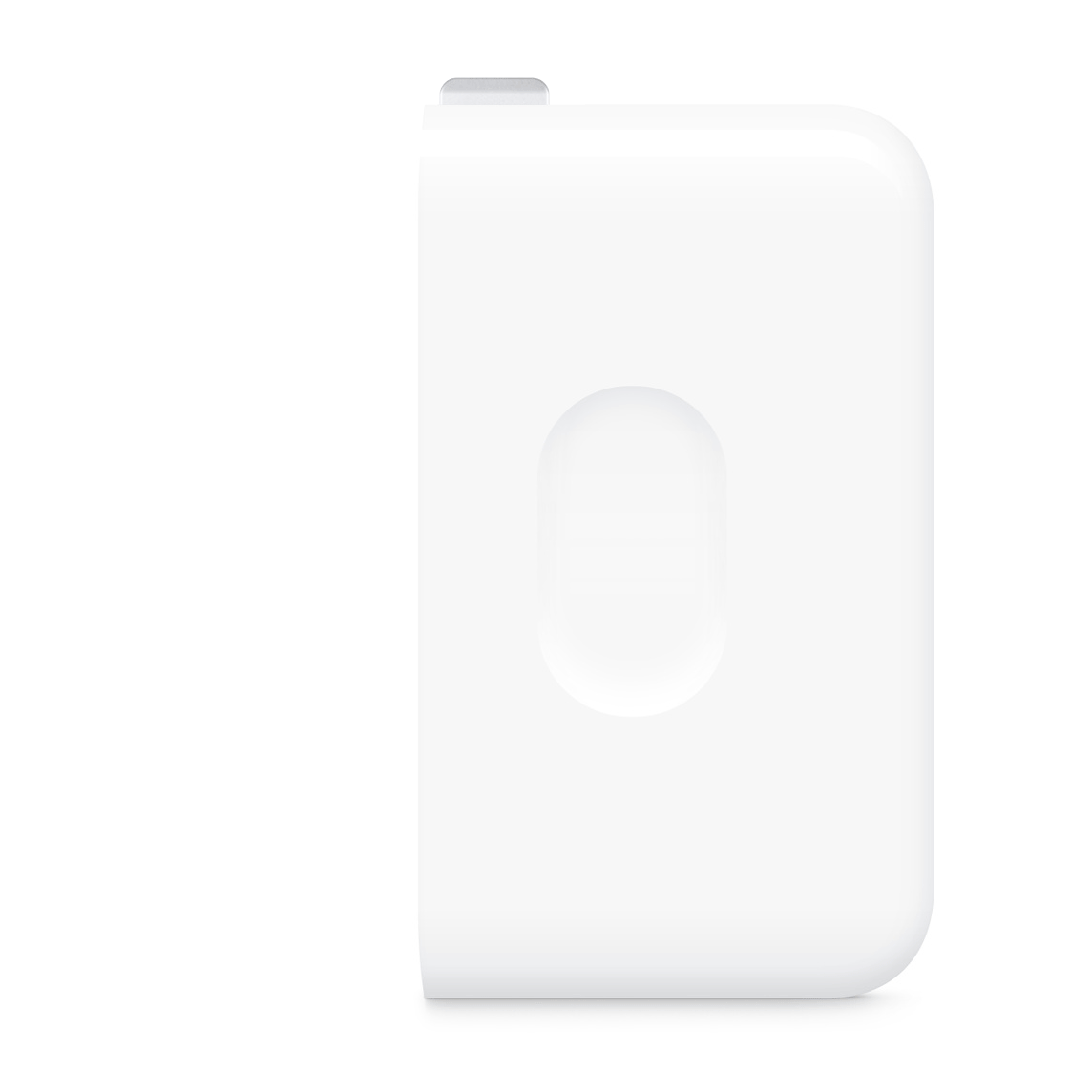 I like how they subtly just poke these prongs out. It's almost like a pocket knife.
SEAN KELLY
Lead Product Designer
Sean: You can see how dark it is compared to space gray.

Nick: Yeah. It plays with the light a lot—kind of looks like a spectrum from dark blue to black.
Ken: It almost just looks like a void.

Nick: It's a meaningful void.

Ken: I love this finish.

Sean: Good job Apple.
Ken: The MacBook Air M1 is based on the language of the original MacBook Air. It had visual tricks to make it look thinner. The wedge shape tapered to a point. That design was rolled out over 10 years ago.
Sean: The M2 doesn't look as thin on the front because it has less of a float.

Ken: Overall though, I feel like it feels thinner.

Sean: It's also reminiscent of the iPad in a way. It mixes old school iPad with new school iPad.
Ken: Immediately, you have smaller bezels and the radius corners on the screen, like on iPads, and you have the notch. As much as I don't like notches, I really prefer it on this new M2 display. I'd rather gain that extra real estate with the notch.
It has the body style of the new MacBook Pro, but in this really slim profile.
SEAN KELLY
Lead Product Designer
Where's the Speaker Grill?
Sean: So where are the speakers?
Nick: The speakers are underneath the keyboard, so it comes out from under the keys.

Ken: But why hide the speaker?

Sean: Maybe the speaker has become a less important thing to show because we have such great wireless headphones and Bluetooth speakers. People aren't necessarily playing music straight out of their laptop anymore. But I think losing it is actually really nice. It makes it look super clean.
MacBook Air M2 vs MacBook Pro
Nick: The pro version looks so thick to me.

Ken: For me, I'm just a business guy. I don't need the power of the pro.
My holy grail would be a 16-inch M2 MacBook Air: light, less power, but bigger screen.
Sean: That actually might be my holy grail, too.

Ken: If you haul the Pro around in the 16 inch, it's so beastly.
Don't Forget the Keyboard
Sean: Ken, I know you're a keyboard nerd. Now you have a full size F key row.

Ken: Guys look, it doesn't line up. Perfect. Thank you. Full size F row.
Ken: I wonder if some hardcore person's going to block out the lettering on the keys to go with the minimal look. They're so good at typing they don't need them. Most people can touch type. Right?

Sean: Not me. I have more of a three finger style. It's like Kung Fu. It's like praying mantis.

Ken: You're creative. You can get it.

​​Sean: I do like a tiger pop. A lot of my typing is actually with one hand because I'm doing commands.

Ken: That's true. You're very fast with the mouse though. Very, very fast.
Ken: I love this. I love the finish.

Sean: I think this is the most successful laptop design. It's now my favorite laptop that Apple makes.

Ken: Now if this laptop came with a 16-inch screen… take my money!