The Ultimate Guide to
Setting Up Your Home Office
From design to decor, we've got you covered.
Why the Home Office Matters
Setting Up Your Home Office
"Where Should I Put My Home Office?"
Using Your Living Room As A Home Office
Add An Office To A Bedroom
Create a Hidden Office (Or Use Tiny Spaces)
Shared Home Offices
"Is a Home Office Tax Deductible?"
Designing Your Home Office
Finding Home Office Inspiration
Pinterest for DIY Ideas
Instagram for In-Depth Setup Feeds
Youtube Reviews for Gear Ideas
Start With the Desk
Which Desk Should I Get?
Home Office Gear Guide
Shelving
Keyboards
Storage
Lighting
Decor
Home Office Setup Checklist
Why the Home Office Matters
Working from home has become a reality in a COVID-19 world, and is likely to become a staple of the life of many of us going forward.

The unexpected nature of the pandemic and quickly adapting to new situations has left many working from their living room or dining room table. Let's be real, seeing your workload take over your living space feels wrong. It doesn't belong there—it's just been dropped into it. Your work deserves a more dialed-in environment.
"Everybody works a little differently. What is consistent is that to get your best work done, you need the space to work for you."
Our design team at Grovemade has been conducting deep dives into workspaces since 2014 - working with 1000s of customers, getting direct feedback from our users, even
visiting many of them
at home, all with the goal of creating better products for your workspace.
Look: we make products, and we believe in them. But ultimately, our goal is to get the right information out there, and help create offices that inspire. This wiki compiles best practices, advice, and products (branded and generic,) that address a spectrum of needs and have earned our seal of approval.
We also created a checklist guide, boiling down the process and most essential information for those looking to create a home office for themselves.
Adding Space for Hobbies and Side-Hustles
If you work from home, you may want to use your office space for more than just your assignments and meetings.

If you plan to deduct home office expenses from your taxes, you need to be careful about mixing hobbies with your workspace (and more on that below). However, optimizing your work-life balance by utilizing your working area can be an incredibly fun and healthy upgrade.
Gamers' desk spaces, affectionately called
Battlestations
, are often decked out with top-of-the-line chairs, keyboards, and monitors. Consider a home office gaming setup with multiple monitors. They can be just sleek as they are comfortable with a
modular shelving system
that slides and rearranges from work to play instantly.
If you're an audiophile, add a
headphone stand
that's worthy of your most-worn Senheisers or AKGs.
Using Reddit to Gather Ideas
Reddit has been coined "The Front Page of the Internet" with good reason: it's the original primary source for a ton of information, quotes, advice, and listicles on publications and social media. That's because it's one of the most popular websites on earth, and unlike nearly any other media resource, it's nearly completely evenly split in demographics by age, education level, and income. In other words, it's the most popular site you don't see in pop-culture.
That makes it perfect for gathering data and researching. You'll have everyone from PhDs in engineering to craftsmen, boomers to teens contributing original content and input.
r/Workspaces is a subreddit where people share their home offices. That's it. It's a goldmine for totally doable, DIY options with accessible furniture, wall-mounts, and desk arrangements.


r/HomeOffice, while significantly smaller, is a highly specialized subreddit where folks share their workspaces, advice on staying productive, and a sprinkling of memes for good measure.


r/Battlestations is the affectionate term for a gaming setup at a desk, usually decked to the nines with a top-of-the-line PC, supportive chair, mechanical keyboard, and multi-monitor setup. Some of them even have custom back-lighting panels and lush plant life. Sure, it seems excessive, but if your work area felt like Disneyland, wouldn't you want to sit there all day?
"How Do I Make it Look Good?"
If you've never intentionally curated your style, designing a space can be difficult. We recommend starting general and then working down to the specifics.
Take a look at pre-defined aesthetics at first: modern, contemporary, industrial, zen, minimalist, romantic, rustic, etc. Don't worry about color at this stage. Just figure out which shapes and arrangements speak to you.
Pick a color palette.
Use an online tool like
Color Hunt
to find premade palettes, or create a unique one by extracting hues from an image with a color-matching tool like
Canva's Palette Generator
.
Pick out the furniture that matches your chosen aesthetic and color scheme. Start big: desk and chair. Those are going to be the mellowest, most likely monochrome hues from your palette.
Choose accessories that are both intuitively useful and match your aesthetic/palette. These will be your middle-hues, whether light or dark. You're going to want to keep these as clean as possible--remember, the tools you use at your desk are meant to enhance your workflow, not hinder it. It might be tempting to go for an attractive, massive gold stapler, but if it's just going to distract you and lure the eye away from the crucial parts of your setup, then it's not a good match for your aesthetic. Save the eye candy for your decor.
Round out the aesthetic and color palette with decor. Save the accent and statement pieces for the decorations, be it wall art, paperweights, bookends, or clocks. Accents stay out of your way and serve to liven up the office area without being gratuitous, loud, or distracting.
How Much Do Ergonomics Actually Matter?
They matter a lot. If you're using equipment that doesn't fit your body, you could be putting yourself at risk of developing long-term issues like carpal tunnel syndrome or cubital tunnel syndrome. Worse, you could develop back problems.
Consider adding a laptop lift or stand, keyboard lift, or wrist pad to your desktop to aid proper back, neck, and arm posture. Make sure that your monitors are lifted as well on a stand or shelf that will encourage you to straighten your spine.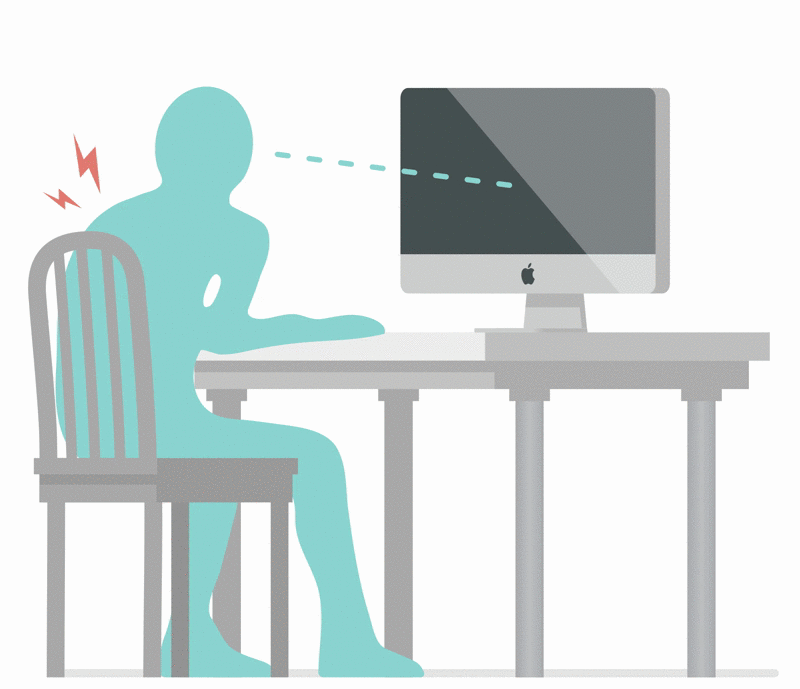 We've seen thousands of home offices since we started our research in 2014, and no matter how eccentric needs are, there are a certain few essential items and organizational tips that exist in almost all of them. Here we'll address furniture, lighting, supplies, and decoration: where do we put it, and what should you prioritize?
If there's any piece of furniture you splurge on, make it your chair. Just like keyboards and mice, an improperly-used or poor quality chair can spell disaster for your body down the road.
Go for an office chair with a full back to support proper posture, and preferably one that's made with breathable material, so you remain cool and comfortable.
Look for "waterfall seats," which have a dip in the front. They're more ergonomic for the spine and legs.
Make sure your joints rest at a 90-degree angle to reduce strain.
Choose a super adjustable chair (that doesn't require tools to adjust). We're talking: height, armrest, and tilt of the back. Make sure your feet rest comfortably on the floor, and that you feel naturally inclined to sit with good posture. Raise your monitors or workspace if you have to.
Decor and artwork are where you can really let your imagination go wild, but you may want to dial it back and choose intentionally.

We recommend keeping your desktop as clear as possible to promote healthful working conditions and functionality. But the wall is fair game.

Surround yourself with art and objects that inspire, comfort, and energize you. Source paintings and framed photos from local artists. Hang things you already own, like posters from shows you've been to, your favorite hats, and most pristine bags.
"What's My Ideal Office Setup?"
For those of us who are decidedly less aesthetically inclined, there are tons of examples of easy setups shared by average people all over the world.
Offices for Developers and Engineers
Programmers and developers who work from home get very familiar with their desk spaces, and require a comfortable, ergonomic setup that is both simple and highly functional.
Multiple monitors can look cluttered if they aren't even. Keep the look clean by arranging them level, and horizontally (or even vertically) parallel by taking advantage of wall space.
Use a laptop lift to give you ergonomic access to the keyboard while maintaining a clear view of the screen.
Turning a monitor sideways for a slick, tall surface for coding.
Custom keyboards are king for developers on the daily grind, and heavy coders, writers, researchers, and typists may opt for a self-constructed mechanical model. These social-media friendly electronics can be ridiculously fun and attractive in addition to being the most satisfying piece of the home-worker's tool belt. I mean, look at this thing. The perfect mechanical keyboard is instinctively usable, with just the right tackiness, clickiness, and color scheme for the digits. The catch, however, is that DIY options can run you at least $200. For more affordable, premade options, check out the budget Magicforce 68 or the ever-faithful Microsoft Sculpt Ergonomic series.
Keep your surroundings mellow. When your eyes are trained on screens all day, you're bound to overwork them. Fill your space with light, plants, and keep your color scheme low-key and pleasant to ease strain.
Home Office Setup Checklist
Working from home is (almost always) a great idea, especially when you've got a dedicated spot in mind and are able to pull it all together without a hitch. Not only are you able to set your own hours and build your career around your lifestyle, but you can also curate a healthy, comfortable environment that increases your productivity and raises your output's value.
Thing is, it's not always easy. Everyone is starting from a different place and has a unique set of skills and stuff to bring with them.

To guide you through the process, we've put together a checklist with the highest quality information both from this wiki and from our research. Set yourself up for success with features you enjoy that also keep you productive.