The Headphone Stand
The wood headphone stand makes a statement on your desk with premium materials and a unique form.
When we started designing our headphone stand, we noticed that the majority were very similar—a thick base with a skinny arm sticking straight up. They looked awkward without headphones, almost identical to a banana hanger. We were motivated to create something different.
But there's a reason headphone stands look so similar—it's the most obvious way to solve the problem. We made dozens of prototypes, attempting and struggling to bring something sculptural to life.
Designed for headphones. Not compatible with bananas.
The breakthrough came when we realized we didn't need a hook to secure the headphones. Experimenting with new shapes, we hand molded leather into a three dimensional bowl that cradles the headphones. Machined grooves in the top of the wood provide extra grip.
The weight of the wood headphone stand means that it doesn't rattle easy. Go ahead and pull your headphones off with one hand tied behind your back.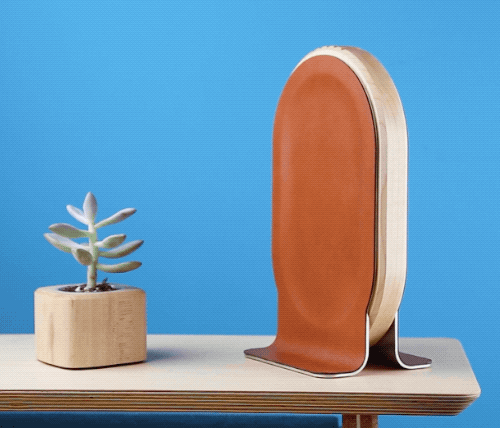 Vegetable-tanned leather is soft and protective, solid hardwood and formed stainless steel bring heft and stability. All together, the premium materials give you a simply functional headphone stand that helps you do your best work.
"It's difficult to create truly unique products, but that challenge is what we're all about."
Hits the Right Note
The wood headphone stand coordinates with our entire desk collection, and comes in walnut and maple.
Pairs Well With Your Desk
Get the rest of your desk in order with our flagship desk accessories.