Designing the Pen
Many of our products have had long journeys from concept to reality, but after four years of consideration, our pen might have taken the longest. Originally launched in 2020, the desk pen has become a staple in our collection. Read on to learn how we designed it.
W
e dipped our toes into designing a pen back in 2015 along with some of the original EDC collection, but the pen never made it out of design. Fast forward to 2018, with the launch of the new desk collection we had a new focus and a better understanding of who we wanted to be as a company.
SEAN KELLY, LEAD PRODUCT DESIGNER:
One of the first things we noticed when looking at our customer's workspaces was that there were so many pens, but none that matched the aesthetic of the desk and looked like they belonged there.
We focused on a mix of our signature materials and a fully custom movement inside the pen. This took us down a long path of how pens works; whether it clicks, twists, or bolts, everything is dependent on a tiny track inside the pen. So we set out to completely redesign that tiny track.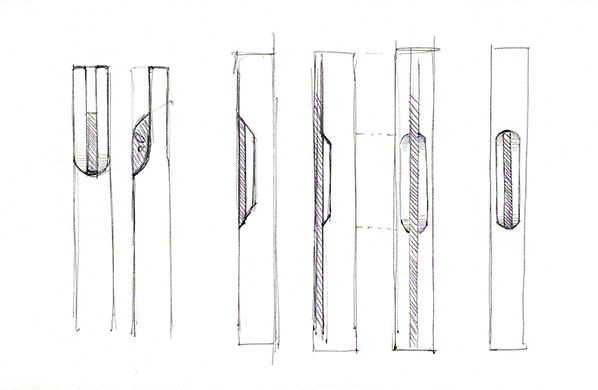 After many iterations of different track styles, different body shapes, and different combinations of materials, we had arrived at a completely unique and custom movement pen; exactly what we set out to do. But after bringing in our engineer to start figuring out how we were going to manufacture it, we realized we had a problem. We had designed something so true to our mantra "Made The Hard Way", that we actually couldn't manufacture it at a reasonable cost and further, offer it at a reasonable price.
Being bold and making truly unique products is an important aspect of everything we do at Grovemade, but even more important than any of that, we want to deliver value to our customers. And the way we are able to do that is through thoughtful design.
KEN TOMITA, CO-FOUNDER:
We had to understand that it's okay to not be everything all at once. Every decision has tradeoffs to consider, and we have to make decisions based on providing the most value we possibly can.
To restart the process, we zeroed in on a single use case: writing at your desk. Even though most work is done digitally, you still need a pen nearby, so we focused on designing an optimized version of the pen for your workspace. Within that framework, we knew we wanted the pen to be beautiful, to feel excellent in your hand and write well, and be part of an intentional workflow. We started by simplifying the materials and internal components, and that allowed us to focus on the form and function.
To keep this truly minimal, and because we were focused on the desk use, we decided not to include a clip; the visual and functional distraction would have made the product less focused than we wanted. We had to stick with our vision of the desk pen. Sean refined the body, working in various styles of facets and thicknesses, to get a pen that felt just right. We eventually settled on a trilobe shape with three facets, a shape that nestles well into your fingers for a comfortable writing grip. One facet continues the full length of the pen to help stop it from rolling when set down. We worked hard to make the pen body as thin as possible—the facets help by giving it a narrower feel in hand—but we pushed as far as we could while still fitting the mechanism inside.

After our initial forays into a fully custom mechanisms, we had to choose between a click and a twist. The click method is more common, but we were drawn towards the twist as a reference to more classic desk pens. It is a really intentional action, and it fit into our entire workspace philosophy.
KEN TOMITA, CO-FOUNDER:
All of our desk products are designed to make your workspace more intentional. The twist mechanism in the pen really mirrored that concept.
Sean created a big facet on one side of the cap to make the twist easier, easy enough that you can do it one handed. We tested a prototype and were surprised at how satisfying the mechanism was.
"It 'pops' into place when you twist it open and closed. We weren't expecting it at all, and it's really satisfying."
SEAN KELLY
Lead Product Designer
We tested a variety of
inserts for the pens
, and ended up choosing the Schmidt P8162 ink cartridge, a premium rollerball that's well regarded in the pen community. The major factors in that decision were the ink writing quality, and the size of the insert: the Schmidt is shorter, allowing us to make our pen shorter, and the neck of the cartridge is all metal, which had a nicer looking extension when the pen is opened and closed.
After finalizing the design of the pen itself, we realized that we needed a home for it on the desk—a pen stand. We established the design principles for the pen stand: it needed to be heavy, to stay put. It needed to hold the pen gently and securely. And it needed to complement both the pen and the desk collection. Sean worked in full scale models to consider various material combinations. Eventually, we settled on a hefty, solid metal base complemented by a wood cap, in walnut or maple. The wood creates a contrast with the all-metal pen, and makes a natural connection with the rest of our desk collection. We included a cut out in the metal lip, so that you can rest the pen both horizontally and vertically.
It may seem outlandish that something as seemingly simple as a pen ultimately took us four years to design, but we're okay with that. Each step along the way taught us something that we folded into the design, helping us make the best pen we could for your workspace.
Mighty Mighty
The pen is available alone, or with the matching stand in walnut or maple, to coordinate with your specific work environment.