20 June 2017
Weighing in on Docks
We designed our docks to provide a home for your iPhone, one that is both functional and sculptural. The dock had to be easy to use, and that means one-handed functionality.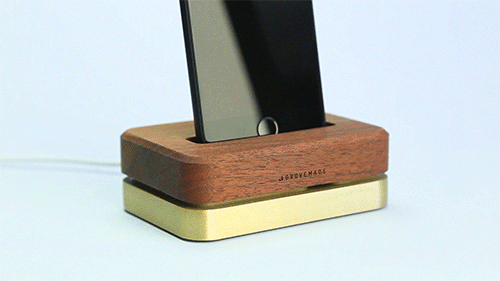 Each dock base is machined from a block of solid metal, and topped with a hand finished, hardwood cap—they're heritage pieces made to last.

Good design considers both the form and the materials. With the dock, we use solid Brass and solid Aluminum - two metals with very different properties.
Brass is a magnificent metal. Pictures can capture the bright and golden tones, but holding it in your hand is what really sets it apart—it's denser even than stainless steel. The weight of the brass alone ensures one handed functionality, with the the dock weighing in at a solid 3lbs 5 oz. Put your phone in. Take your phone out. It won't budge. It's substantial and it feels valuable. It's easy to see why it's been a prized metal for thousands of years.

The brass is polished to a golden glow before it leaves our workshop, and it will develop an attractive patina over time.

Alloy: 360 brass
Density: 0.307 lb/in3
Hardness, Brinell: 144

Aluminum provides a fitting contrast to the brass dock. It's lightweight, yet hard - it's a shiny, playful counterpart to Brass.

We use micro-suction on the bottom of the Aluminum dock to allow for one-handed functionality. The tape will stick to any smooth, solid surface, and will hold tight when you take your phone in and out.

It's offered in two finishes—clear anodized with a Maple cap, and black anodized with a Walnut cap.

Alloy: 7075 aluminum
Density: 0.102 lb/in3
Hardness, Brinell: 172

Shop The Dock
Available in Walnut, Maple, or Brass