Designing the Notepad
In 2020, we were researching notebook sizes to add to our collection. At the same time, Ken was using a disposable notepad that was beautiful at the beginning, but with each tear of the page a wall of glue residue was building up, making it into an eyesore. The combination was a lightbulb moment: we should design a notepad, one that never gets ugly, and never meets the trash can. This is the story of how that notepad came to life.
We'd always been into stationery as users, but we were feeling the pull to make something of our own. We'd already made the
pen
. We added
notebooks
in 2020. It was time to create the Grovemade Notepad.
Our research showed that almost all the notepads out there were disposable. There were two basic binding types: ring-bound and glue-bound. These options left the note-taker with either tattered edges or an ever-increasing glue wall. Not clean. And, there seemed to be a standard range of sizes, from small and narrow to wider and larger. We were starting to sense a sweet spot, a gap in the market. Excitement was building.
It was time to make a key decision. Do we move forward with designing a product that's totally new to the market? Maybe there was a reason there were only disposable notepads out there. Maybe that was all people were willing to buy.
It's exciting and scary to design something not already in the market. We knew it might fail, and we were ok with it.
We stepped back and took stock. This helped us realize that we really wanted to see this product come to life. We felt like it filled a need for our desk space—maybe other people would too. It would be a risk, but we were willing to take it.
Inspiration Takes the Wheel
We laid out our goals.

1. Make something permanent, lasting.
2. Find a way to secure paper without having to rip it, and without it being loose.
3. Make it solid, easy to use with one hand.
Our first inspiration came from a surprise source:

The "Do Not Disturb" tag on hotel room doors.

Slide it on, slide it off.
Our second was from our own product. The holes on the Grovemade Belt slip into place over a single stud. Slip it in, slip it out.

We could use this same rhythm for the notepad paper. Slide it on, slide it off. Slip it in, slip it out.

This would be easy to refill when your paper ran out. As an added bonus, you could flip a page over when you were done with one side and use the other! Sean was really into this feature. Ken thought it was alright but not a big deal…stay tuned for the ending to that story.

As for the size, we were leaning toward long and narrow, a size we hadn't seen much of in our research. We took some inspiration from our slim notebook proportions, and looked for a silhouette that would fit easily next to our keyboards.
Our threads were coming together. We were designing a stable base that wouldn't budge when you pulled off a sheet of paper, anchoring the paper on a stud that facilitated easy on and off, double-sided note taking, and beautiful notepad aging. The base would fit in with a clean, minimal desk setup, whether it was full of paper or totally empty.
Considerations and Hiccups
We began our iterations and prototypes. Materials, stud sizes, orientations, dialing in the proportions to be just right.
Then the first time we ordered the paper, we received a staggered stack. The hole wasn't lined up all the way through and it was impossible to set the paper over the stud in a single, fluid movement. We couldn't let that fly, so we went back to our supplier. If we lined up the hole, we'd end up with some unevenness and tabs on the paper's edge. It was a tradeoff, but we went for it. That motion of refilling the paper, of taking a page off or putting it on, had to be absolutely seamless.
Once we had the paper situation squared away, we were looking at a nearly completed product. A machined metal base with chamfered edges, and a single pill-shaped, press-fit stud at the top.
We chose a super specific niche and aimed for 10x better. We think we got there.
We chose dot grid paper, so you can use the notepad in any orientation. To create a flow between the stud and the dot grid, we added margins so that the grid doesn't extend past the stud and doesn't crowd it. Instead it follows the line of the stud down the page, giving a feel of continuity and unity.
Our notepad is long and narrow. A rare breed, and all the better for it. Lovely for lists, perfect for ponderings.
The paper is also thick enough to use both sides, and is lined up along the hole so it's effortless to take on and off. This, plus the heaviness of the base, means that you can single handedly pull a sheet off, turn it over, doodle/scratch/jot on it to your heart's content.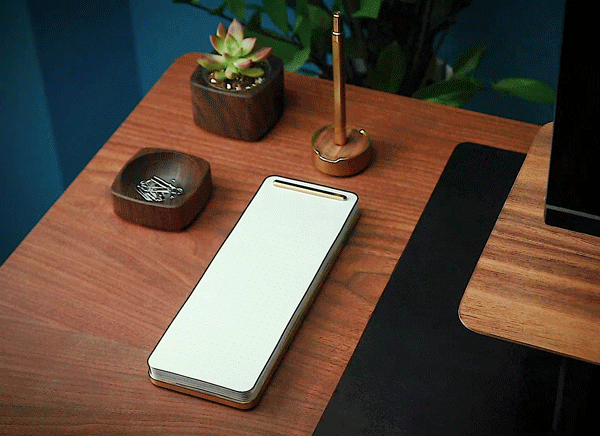 Ken: We're not paper experts yet…
Sean: But we are experts at making the base.

In the end we'd designed one of our favorite products. We use it daily and can't go back to anything else. We went for a highly specific use and we're loving it. As for double-sidedness, Ken is now totally on board and gets the beauty of it. In Sean's words:
Our notepad does one thing really well… AND you can use both sides!
SEAN KELLY
Lead Product Designer
What more could you want?

[More sizes? We think so too. Keep an eye out for new sizes coming soon!]
Pick Your Partner
Our notepads are available in black, brass and silver.